Our facilities are immaculately maintained, modern and convenient. Come visit!
Visiting Nurse Assisted Living Community, 259 Lowell Street, Somerville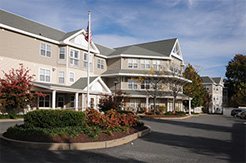 Featuring 97 private one-bedroom apartments, the fully handicapped accessible Lowell Street facility is centrally located minutes from Arlington, Medford, Cambridge, Boston, and surrounding towns. Life at this lovely residence includes our certified Wildlife Habitat where you can sit in the sun and while away the hours watching birds and other wildlife.
VNA Senior Living Community, 405 Alewife Brook Parkway, Somerville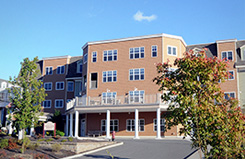 On the border of Arlington, Winchester, Medford and Cambridge, this thoroughly modern residence, on Alewife Brook Parkway features 99 handicapped-accessible, private one-bedroom apartments and incorporates green technologies, such as solar power, rain water recycling and co-generation of electricity – making it one of the most environmentally friendly complexes ever built. The building is connected by a bridge to an additional 95 apartments at Capen Court Senior Housing – creating a unique continuing care complex for seniors and people with disabilities.

The Alewife Brook Parkway building is located by the scenic Mystic River Greenway with lovely walking paths and wildlife including swans, ducks, otters and wildlife.





To learn more about daily life at the VNA, please see our Activites and Wellness pages.
You may also fax your application to 1-617-718-2637 or email completed applications to AssistedLiving@vnaem.org.