Bringing Health Care Home since 1906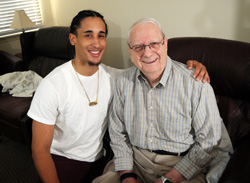 The VNA of Eastern Massachusetts provides skilled home health care and works closely with other community agencies to build a coordinated support system. Our programs provide people with options.
Home health care can allow people to avoid a hospital stay, learn to better manage a disease or illness, or to return home from the hospital sooner. For over 100 years we've helped people of all ages manage their health care needs in the privacy and comfort of their own homes.
We provide services such as:
Nursing
Home Health Aides
Rehabilitation Therapy (occupational, physical and speech)
Social Work
Specialized care is available for illnesses including:
Cardiac Disease
Diabetes
Pulmonary Disease
Wound Care
Chronic Illness
After Surgery Care
Terminal Illness Care
Personal Care
Transitional Care
Additionally, we work closely with local Hospice organizations to provide your loved ones with dignified, compassionate end-of-life care in the comfort of your own home, or at one of our fully furnished private apartments.
Please give us a call at 617-776-9800 or email us at homecare@vnaem.org.