Bringing Health Care to Your Home since 1906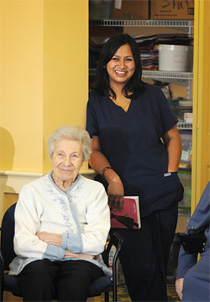 Who are the Visiting Nurses? In this section, you can read about our 100-plus year history and how we became the first Visiting Nurse Association (VNA) in the U.S. to build assisted living communities. You can also learn more about our senior management team and staff.
If you want to learn more, please call! We're always happy to answer any questions. Call 617-776-9800 or email Info@vnaem.org.
History of the VNA of Eastern Massachusetts
For over 100 years, we've been providing quality care to families in the Greater Boston area including Somerville, Cambridge, Arlington, Lexington, Belmont, Medford, Winchester, Woburn, Waltham and beyond.
Our leadership team
Lead by President and CEO Linda S. Cornell and a devoted Board of Directors, our VNA senior management team was the first in the U.S. to oversee the building of two VNA assisted senior living facilities, making our vision of creating a dignified, warm and wonderful home for those who need a helping hand a reality for over 200 residents.
Our staff
Resident caregivers as well as dining and activities, maintenance, front desk and administrative staff have been trained to our own rigorous standards and provide exceptional service and a friendly hand.
Career openings
If you'd like to join our friendly, skilled and caring team, we invite you to apply.
Press Room
Learn more about our facilities, staff, and history.